Led by founder and CEO M. Randy Levin, University Realty LLC's primary goal is to advance the mission of Arizona State University by implementing three fundamental strategies:
Accept and monetize commercial office, industrial, retail and multifamily buildings, as well as vacant land received from philanthropic real estate gifts from donors.
Take advantage of opportunities to invest, acquire and dispose of real estate at logical points in real estate cycles.
Provide full service, ground-up development including acquisitions and entitlements of land, master-planning and building design, construction, and financing of office, industrial and multi-family projects.
Learn about our projects: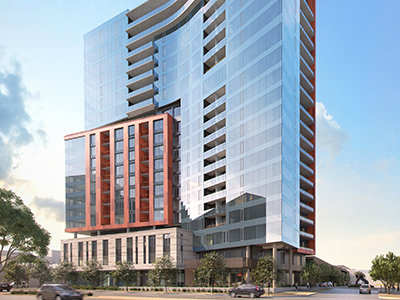 Mirabella at ASU
Scheduled for completion in 2020, Mirabella at ASU will be a 20-story, 1.7-acre, university-based senior housing facility unlike any other in Arizona. This LEED-certified building will house 230 independent living units, 20 assisted living units and will have 21 units for skilled nurses. Aside from its extensive amenities — including a courtyard, a library, formal dining and an indoor swimming pool — Mirabella at ASU will take advantage of its proximity to Arizona State University with proposed partnerships with Osher Lifelong Learning Institute, the Herberger Institute for Design and the Arts, and the School of Nutrition and Health Promotion. This will keep residents active, learning and engaged with the community.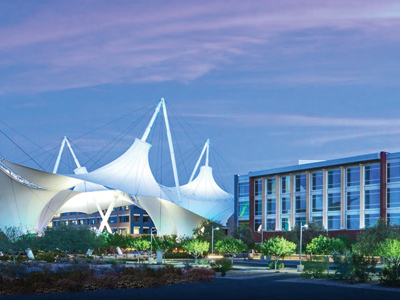 SkySong
SkySong, The ASU Scottsdale Innovation Center, is a 42-acre, 1.2 million-square-foot mixed-use development that, when fully built, will contain research, innovative office, retail, hotel and multifamily residential components. This project focuses on innovation and technology with the goal of becoming one of the premier economic engines in Arizona. SkySong attracts some of the most cutting-edge companies to its state-of-the-art office facilities, bringing unparalleled talent and expertise from leaders around the world to the ASU community. These leaders in industry often act as mentors to the entrepreneurs who populate the incubator component of SkySong, helping students and professionals successfully bring their ASU discoveries to the marketplace.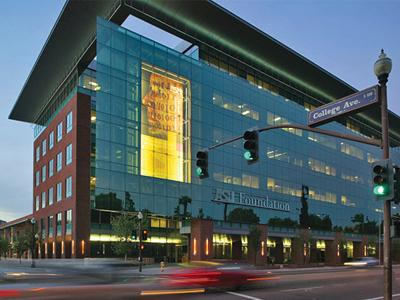 The Fulton Center
Completed in 2005, the Fulton Center is the home of the ASU Foundation for A New American University as well as university administration and leadership, university initiatives and retail and dining establishments. As the home of the ASU Foundation, it is also the center of ASU Enterprise Partners' development and philanthropy efforts and Enterprise Partners Shared Services. The Fulton Center was ASU's first building LEED-certified for reducing the urban heat island effect, reducing water use and using recycled and regionally available building materials in its construction. The Fulton Center set the stage for many environmentally sustainable buildings constructed on ASU's four campuses in the years that followed.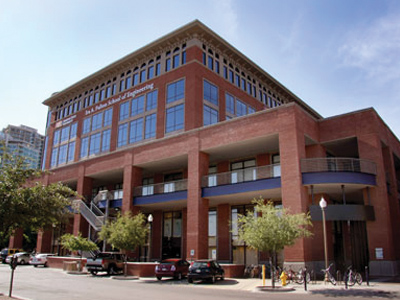 The Brickyard on Mill
The Brickyard on Mill is a seven-story, 202,000-square-foot mixed-use project occupied by  retail, office and dining establishments. The Brickyard is home to the Ira A. Fulton Schools of Engineering; the ASU Art Museum Brickyard Ceramics Research Center; the School of Arts, Media and Engineering; and ASU's Decision Theater.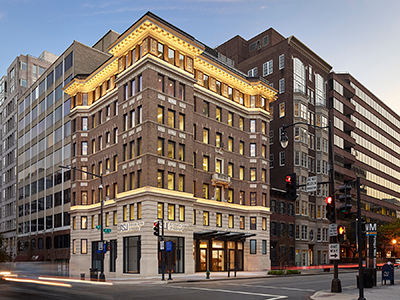 Ambassador Barbara Barrett and Justice Sandra Day O'Connor Washington Center at ASU
Washington Center is an eight-story, 100-year old building located just three blocks from the White House in Washington, D.C., purchased and renovated with $35 million in bond financing. Washington Center will house approximately 18 ASU programs, including the McCain Institute for International Leadership; the Walter Cronkite School of Journalism and Mass Communication; the Sandra Day O'Connor College of Law; and the Consortium for Science, Policy and Outcomes.